Welcome to Chad & Sandy Real Estate
Jacksonville Florida Homes and Properties
YOUR HOME SOLD GUARANTEED OR WE'LL BUY IT!
If you're buying, start with our property search, including an interactive map search, to find all real estate listings in Jacksonville that are updated every 15 minutes.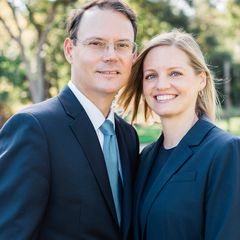 Our handy Community Guide can help you in your search for Jacksonville real estate listings, from Fernandina Beach to St. Augustine, and Palm Coast real estate listings.
Chad and Sandy are on a mission to empower 15,000 current and aspiring homeowners to achieve their real estate goals by bridging the gap between sellers and buyers.
Register for a free account to save your preferred properties and receive notifications on new listings - it's quick, effortless, automated, and completely FREE! By creating a Property Tracker account, you will be among the first to be informed about the latest homes for sale in Jacksonville.
Our Areas of Serivce:
---
Chad and Sandy Featured On


Reviews

Chad&Sandy Real Estate is A++
I had the pleasure of working with Brittany Jones. She made me believe in myself and kept me encouraged. I felt like I was somebody and I could own a house too. This was my first journey and Brittany was with me every step of the way and kept me informed on everything She was able to answer all my questions and solve all my worries.Brittany has real love for her clients.
Chad and Sandy Realtors ROCK!

After having our house on the market for a month and well over 20 showings, we let it expire and decided our next step. I heard Chad and Sandy on the radio and gave Chad a call. At first, it seemed too good to be true but when the time came, Chad knew what he was doing. Listed our house for only 6 hours and got us 3 offers out of 5 showings. We sold for over asking price thanks to Chad. If you're selling your house, call Chad. You won't be disappointed!!!

From the moment we first contacted Chad and Sandy Real Estate Group we received quick and professional answers to our questions. Alex worked with us through the negotiation process and purchase and move. He was there for the move in and went above and beyond in helping us. Bridget handled many of the details of closing, utilities, real estate attorneys and money wire transfers. Beyond responsive and professional. I highly recommend.
Why Use Chad and Sandy Real Estate?
It's not because you saw Chad and Sandy on TV or because they took out an ad on Instagram. You ended up here because you searched online for a specific property, neighborhood, or architectural style. And guess what? You are not alone. Their real estate website, based in Jacksonville, Florida, attracts thousands of luxury sellers and buyers every day. Here's why:
Chad and Sandy, the founders of this website, are experienced real estate brokers with a passion for bringing their marketing expertise to home buyers and sellers. Here's why their background matters to you:
If you're looking to buy a home, their website offers the world's most comprehensive selection of exceptional properties in Jacksonville, Florida.
If you're selling a property, they built their website to make your home stand out above the rest in an otherwise undifferentiated sea of property listings and -- more importantly -- so that you find your ultimate buyer.
Want to know more about showcasing and marketing your home to the right buyers? Give us a call!
Today's Listings!
Phone(904) 414-6200

Email[email protected]

Address Chad and Sandy Neumann
Chad and Sandy Real Estate Group
8367 Baymeadows Rd Suite 200
Jacksonville, FL 32256