Top Reasons Families Are Relocating To Jacksonville
Posted by Chad & Sandy Neumann on Wednesday, June 7, 2023 at 11:42:46 AM
By Chad & Sandy Neumann / June 7, 2023
Comment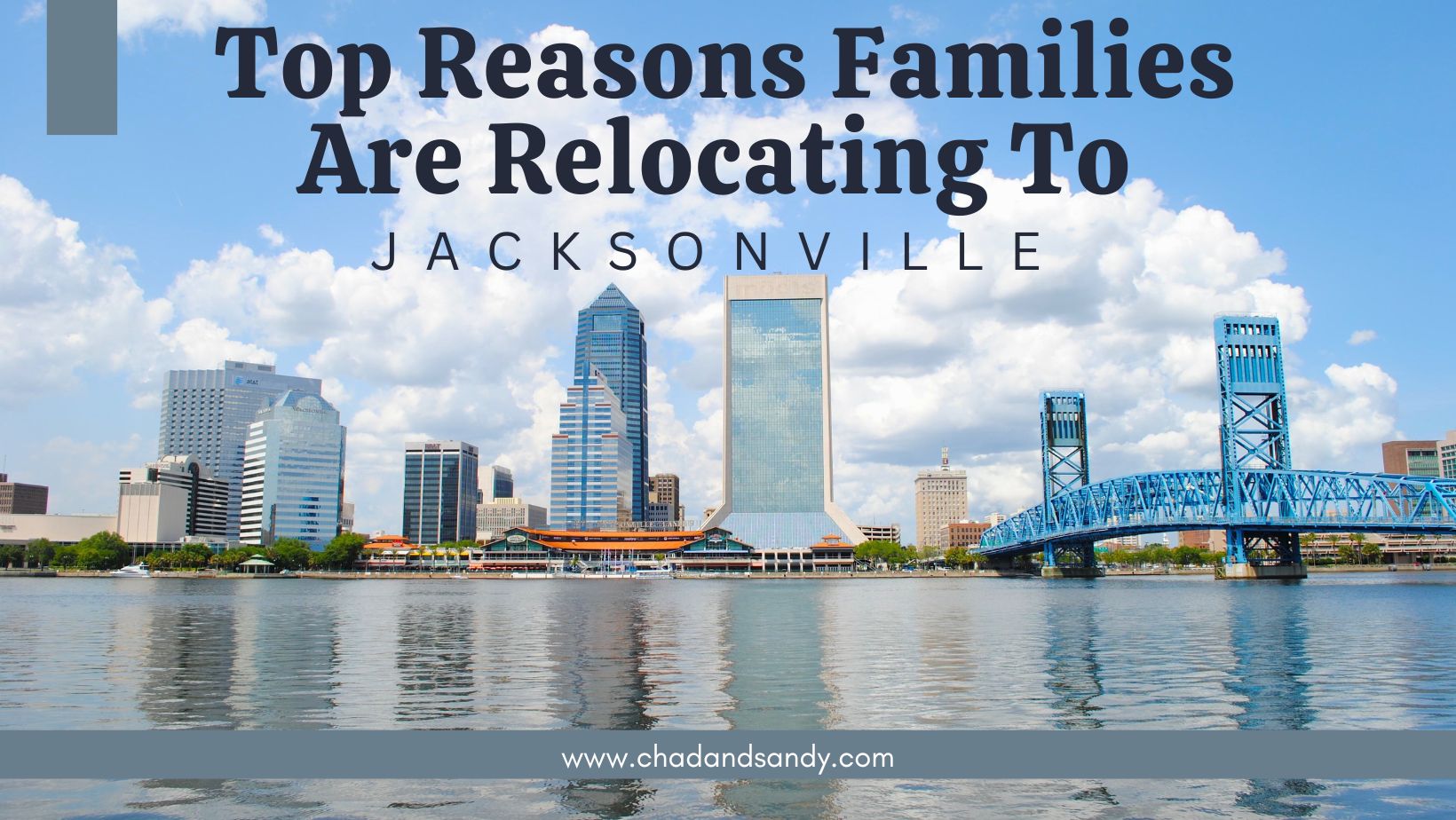 Jacksonville, Florida is a city that has a lot to offer to individuals and families looking for a new place to call home. Read on to learn about why families are flocking to Jacksonville.
Economy and Jobs
The city's growing economy is one of the top reasons why people relocate to Jacksonville. With large companies such as CSX Corporation, Fidelity National Financial, and Winn-Dixie Stores, there are numerous job opportunities for people with various skill sets. These companies offer employment in diverse sectors, including transportation, finance, and retail, providing a broad range of career paths for individuals.
Cost of Living
Another appealing aspect of Jacksonville is its affordable cost of living, which is lower than many other cities in Florida and the US. Housing is relatively cheap, and other expenses such as transportation, healthcare, and groceries are also affordable. This makes it easier for individuals and families to budget their finances, live comfortably, and enjoy their time in the city.
Jacksonville, Florida is the largest city by area in the contiguous United States and offers a range of living options. When considering the cost of living in Jacksonville, several factors come into play, including housing, transportation, utilities, groceries, healthcare, and miscellaneous expenses. Here's a breakdown of these factors:
Housing: The cost of housing in Jacksonville can vary depending on the neighborhood and housing type. Overall, housing costs in Jacksonville are relatively affordable compared to other major cities in Florida. The median home price in Jacksonville is lower than the national average, making it an attractive option for homebuyers. Renting an apartment can also be reasonably priced, although prices can fluctuate depending on location and amenities.

Transportation: Jacksonville has a decent public transportation system, including buses and a Skyway monorail system. However, most residents rely on private vehicles for transportation. The cost of owning a car in terms of fuel, insurance, and maintenance is relatively affordable compared to other cities. Jacksonville also has lower gas prices compared to the national average.

Utilities: Utility costs in Jacksonville are generally on par with the national average. This includes expenses such as electricity, water, heating, and cooling. The specific costs will vary depending on the size of your household and your energy usage.

Groceries: The cost of groceries in Jacksonville is slightly lower than the national average. You'll find a variety of supermarkets and grocery stores offering affordable options. Additionally, there are farmers' markets and specialty stores where you can find fresh and local produce.

Healthcare: Jacksonville has a robust healthcare system with several hospitals and medical facilities. The cost of healthcare can vary depending on factors such as insurance coverage and the specific services required. It's important to consider healthcare costs and insurance options when planning your budget.

Miscellaneous Expenses: Other day-to-day expenses like dining out, entertainment, and personal care will depend on individual choices and lifestyle. Jacksonville offers a wide range of options to suit different budgets, from affordable eateries to upscale restaurants and entertainment venues.
Overall, while there may be some variances, Jacksonville is considered to have a relatively affordable cost of living compared to many other cities in Florida and the United States. It's always advisable to research specific neighborhoods and consider your individual circumstances and preferences when budgeting for a potential move to Jacksonville.
Jacksonville Weather
The climate in Jacksonville is mild and pleasant, with warm summers and mild winters, making it an ideal destination for those who enjoy outdoor activities. The city is located close to many beaches and outdoor recreational areas, offering a range of activities such as swimming, surfing, boating, fishing, and hiking. The city's natural beauty is also a draw for those who appreciate scenic views and green spaces.
Jacksonville Culture
Jacksonville also has a vibrant cultural scene, with many museums, galleries, performing arts venues, and festivals that take place throughout the year. For instance, the Jacksonville Jazz Festival is an annual event that attracts music lovers from across the country. Additionally, the Florida/Georgia football game is a highly anticipated event that brings thousands of visitors to the city each year. These cultural activities add to the city's overall appeal and offer a variety of entertainment options for residents and visitors alike.
Great for Families
For families with young children, Jacksonville is a great place to raise a family. The city has many excellent schools, family-oriented neighborhoods, and numerous parks, playgrounds, and amenities that cater to young children. Families can enjoy spending time together and engaging in various activities, making it an ideal place for families to create lasting memories.
The Naval Base
Lastly, Jacksonville is home to several military bases, including Naval Air Station Jacksonville and Naval Station Mayport. This makes the city an attractive destination for military families and veterans who want to be close to these bases. The city has many resources and services that cater to the needs of military families, such as military discounts and support programs.
In conclusion, Jacksonville, Florida, has something for everyone. The city's growing economy, affordable cost of living, mild climate, vibrant cultural scene, family-friendly neighborhoods, and military presence make it an attractive destination for people of all ages and interests. Whether you are looking for a new job, a place to raise your family, or a city with a variety of entertainment options, Jacksonville has it all.
Whether looking for a primary residence or vacation home, Jacksonville is the place to invest in. You can find the property of your dreams and enjoy your peaceful lifestyle. For more information on Jacksonville, contact our office at any time.
Browse the Latest in Jacksonville Below