What To Consider When buying A Beach Home
Posted by Chad & Sandy Neumann on Tuesday, July 11, 2023 at 8:45:54 PM
By Chad & Sandy Neumann / July 11, 2023
Comment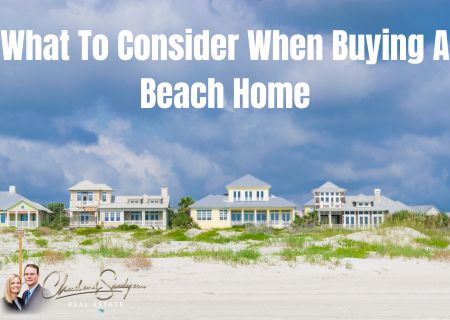 Purchasing a beachfront property in Florida presents an exceptional opportunity. Not only does it serve as a perfect vacation spot for you and your family, but it also holds significant investment potential through property rentals. Nevertheless, this is a substantial decision that requires careful consideration of essential factors before selecting a beachfront home. Fortunately, we've compiled a list of crucial points that you must keep in mind before buying a house in Florida. Each step in this process is of vital importance and should not be overlooked. Continue reading to familiarize yourself with these guidelines and incorporate them into your checklist!
What To Consider When Buying A Beach Home
Determine Your Budget: Begin by establishing a budget for your purchase. Consider your current financial situation to determine how much you can afford. Research the average sale prices of beachfront houses in Florida over the past year, and don't forget to include additional costs such as overhead fees or charges. Once you have accounted for all the expenses, you'll have your budget ready.
Obtain a Pre-Approval Letter for a Mortgage: Once you have your finances in order, proceed to obtain a pre-approval letter for a mortgage. This letter, issued by a bank or financial institution, confirms your eligibility for a loan to purchase the house. Most realtors require this letter before showing you properties, as it instills confidence in the seller.
Choose the Right Neighborhood in Florida: Selecting the ideal neighborhood for your dream house is essential. Beachfront areas are prone to floods, so you must be cautious when choosing a location. Ensure that you have convenient access to stores, hospitals, and schools in the vicinity. Begin your search by selecting a Florida municipality and narrow down your options until you find the perfect neighborhood.
Hire a Florida Realtor: While you may be tempted to start your search on your own, it is best to seek assistance from a professional. Local real estate agents should be your first choice, as they possess extensive knowledge of the area. Conduct your due diligence, including background checks, client reviews, and an assessment of the realtor's experience. Hiring a local real estate agent will likely help you secure the best deals.
Begin the Search for Your Dream Home: Buying a house in Florida may involve visiting numerous properties on the market, making the process quite exhaustive. Take your time to carefully evaluate each option until you find the one that feels right for you. Pay attention to the locality, neighbors, and general maintenance of the property.
Make an Offer for the House: Once you have found a house that meets your aesthetic preferences and requirements, you can proceed to make an offer. Submit your offer as soon as possible to avoid losing the property to other potential buyers. To make your offer stand out, ensure that it is clear and easily understandable. If it fits within your budget, consider providing a larger down payment to sweeten the deal.
Conduct a Final Inspection and Close the Deal: After your offer has been accepted, it is essential to conduct a comprehensive inspection
In Conclusion
Get expert guidance on Florida real estate from our knowledgeable team. Whether you're a buyer, investor, or curious, we're here to help. Gain valuable insights and market analyses to make informed decisions. Let us be your trusted companion in unlocking Florida's real estate possibilities. Contact us today for a rewarding adventure in the Sunshine State!